Owning property means occasionally investing in maintenance. While it can be hard to know which things to prioritize, some routine or even semi-regular tasks can deliver more value than others. If you have a forest or even a handful of trees on your property, you may have reason to clear the land. If so, you might wonder if you would be better off with forestry mulching or land clearing. If forestry mulching Michigan is on your mind, we're here to help answer your questions.
First, let's cover the basics. What are forestry mulching and land clearing? What are the benefits of mulching over clearing? We'll set the record straight, whether you are thinking about forestry mulching Michigan or in another state. 
What is Forestry Mulching?
When you need trees cleared from your property, forestry mulching is a safe, cost-effective option that is good for both your land and the environment. Forestry mulching is a specific form of land clearing that selectively removes unwanted trees, brush or other vegetation from your property, without wholesale clearing of the land.
No matter your location—forestry mulching Michigan, Florida or somewhere in between—you may have a property that requires partial clearing, without taking out specific trees or bushes. The selective nature of mulching avoids unnecessary disruption of the ground, which helps the overall well-being of your soil. 
Forestry mulching can be a minor exercise—pruning vegetation, reducing tree limbs and removing select branches—or it can be a larger-scale property improvement. In either case, branches, bushes and other vegetation are shredded and returned to the ground as mulch. It is often done as a way to control growth in wooded areas.
Not only does forestry mulching allow you to remove plants or vegetation you don't want, but it also helps you prevent it from growing back. In short, it is a property improvement that enhances the overall look of your landscape, while helping its environmental integrity and health.
What is Land Clearing?
Land clearing is the removal of vegetation from your property, including plants, bushes, trees, stumps and roots. It is an ideal way to achieve a reset when you want to repurpose your property for landscaping, construction or agricultural use.
Land clearing uses heavy equipment to efficiently remove trees and other vegetation for both residential and commercial jobs. Land clearing is commonly used to prepare construction sites before a building project begins, but it is also used to prepare land for agriculture, landscaping or other purposes.
The most compelling feature of land clearing, for many builders or planners, is its efficiency. Land clearing is generally achieved with excavators, mulchers and loaders, which work quickly to clear a given space. Sometimes extra work is required for stump removal, which can be achieved through outright removal from the ground or through stump grinding, down to ground level.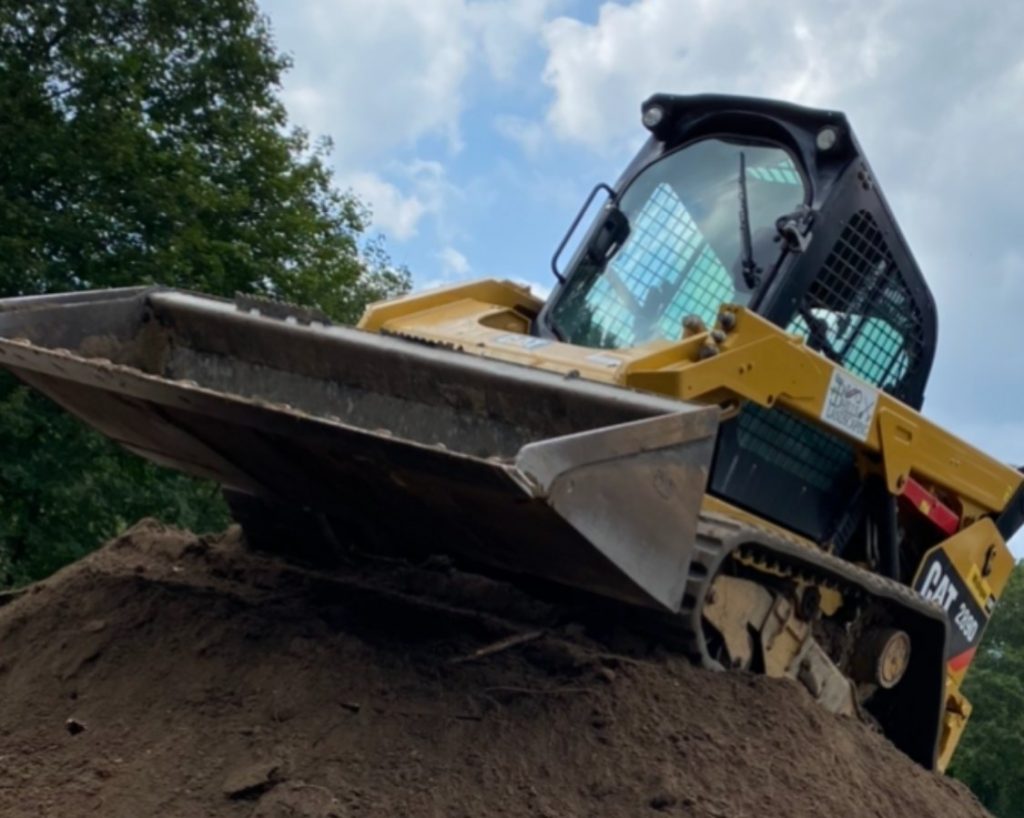 Benefits of Forestry Mulching
When compared to land clearing, forestry mulching has several clear benefits. While not every job will give you the option to choose, here are a few reasons to make forestry mulching your top choice:
Healthy Growth – Perhaps the main benefit of forestry mulching, especially when compared to land clearing, is its ability to promote healthy, selective growth. Whether you are managing a forest, landscaped property or agricultural land, forestry mulching is an effective way to clear unwanted vegetation, remove invasive species and reduce the risk of wildfire.

Cost – Forestry mulching reduces costs on several fronts. First, it requires less time and heavy equipment than land clearing. Second, there is less material to haul away, as most is recycled on the spot and returned to the ground as mulch. Finally, by producing your own mulch, you have far less to purchase for your property.

Erosion Control – By selectively choosing which plants to remove, while preserving trees and other growth you want or need to keep, forestry mulching helps to preserve the integrity of your soil—avoiding erosion—by keeping roots in the ground. In addition, the mulch created protects and helps to create a layer of topsoil.

Soil Protection – Another benefit of forestry mulching is the advantage it provides to the soil. By recycling the natural vegetation of the area, mulching helps to improve soil fertility and quality. In addition, with less heavy equipment required, the soil is not subjected to as much compaction or disruption.
 
Simplicity – When comparing forestry mulching to land clearing, one clear advantage is often overlooked: simplicity. Forestry mulching requires less equipment than land clearing, it is less likely to require burning or hauling and it leaves less debris behind.

Appearance – When forestry mulching has been used on a property, there is an immediate visual improvement. Mulching can help to improve both the function and visual appeal of landscaping, agricultural areas or forests.
No matter where you live in the state, if you are considering forestry mulching Michigan and want to understand why you would choose mulching over land clearing, this list should be useful. While not every job is suitable for forestry mulching, there are many advantages to using it. Where you can, choose forestry mulching to incur less soil disruption and damage to the soil organisms that help plants and trees to thrive.

Let Your Property Goals Guide You
If you are wondering about forestry mulching Michigan—if it makes more sense than land clearing your Michigan property—there are a few variables to consider. First and foremost, you need to know if you want a complete reset for your property or if you want to selectively reduce the amount of vegetation and debris.
Next, you'll want to consider the physical attributes of your property and how it might be transformed. Generally speaking, the more you can leave your soil intact, the healthier it will be.
Ultimately, deciding between forestry mulching and land clearing will come down to the goals you have for your property, any physical limitations you might face and the budget you have available.
Find the Right Team
When you decide on forestry mulching Michigan, it is critical to work with an experienced team of experts. Only qualified professionals can help you decide if mulching would work better for your property and goals, or if land clearing is required. They can also advise on stump removal or stump grinding, depending on your needs and budget.
The right team will communicate clearly, give you a good understanding of what to expect and conduct a thorough assessment of your property. If your land is located near a river, lake or another waterway, they will help you obtain the necessary permits and permissions.
At Stump Demolition, we stand by our commitment to you. We serve southeast Michigan with a high work ethic, clear communication and the highest quality work standards. We ensure our jobs are done on schedule and budget. We have plenty of experience working toward our clients' goals, cost-effectively completing the work while protecting the well-being of their land.
To get started, simply contact us. We will arrange a time to assess your property, including your options for forestry mulching and discovering which permits you are likely to need. Let us help with your fresh start.